Categories:
Fashion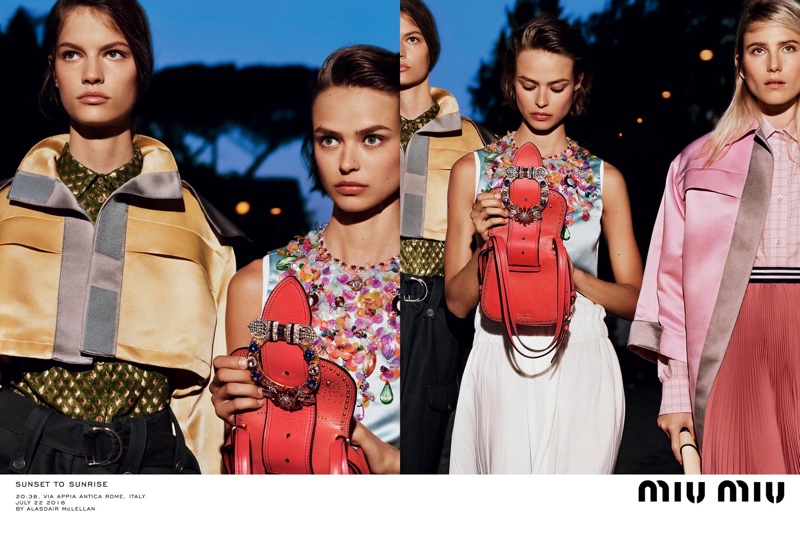 Miu Miu reveals resort 2017 advertising campaign
Miu Miu taps a fresh cast for its resort 2017 campaign. Inspired by an all-night stroll through the streets of Rome, models Dree Hemingway, Cecilia Chancellor, Brigit Kos,Faretta Radic and Sara Somogyi appear in the advertisements. Photographed byAlasdair McLellan on the famous road Via Appia Antica, the girls wear embellished styles with a youthful twist. From bags with sparkling crystals to silk jackets and knit sweaters, the designs stand out in the eclectic images.
MIU MIU RESORT 2017 CAMPAIGN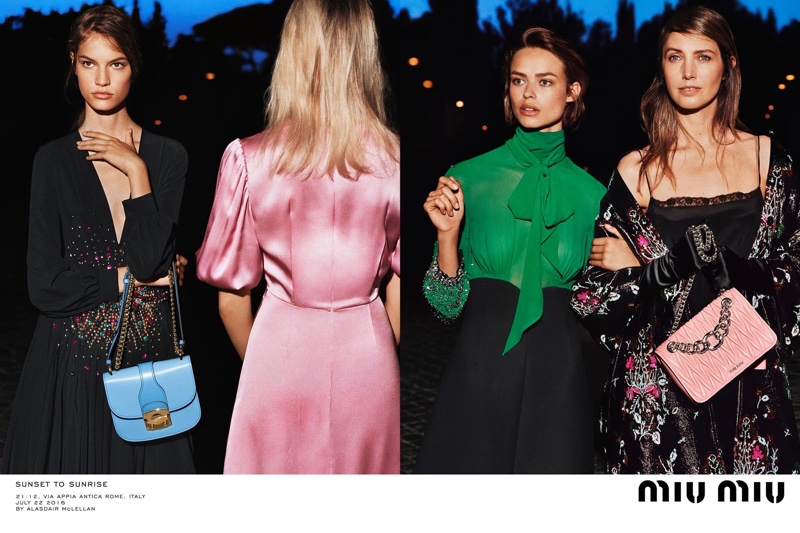 Photographed in Rome, Italy, Miu Miu's resort 2017 campaign spotlights colorful styles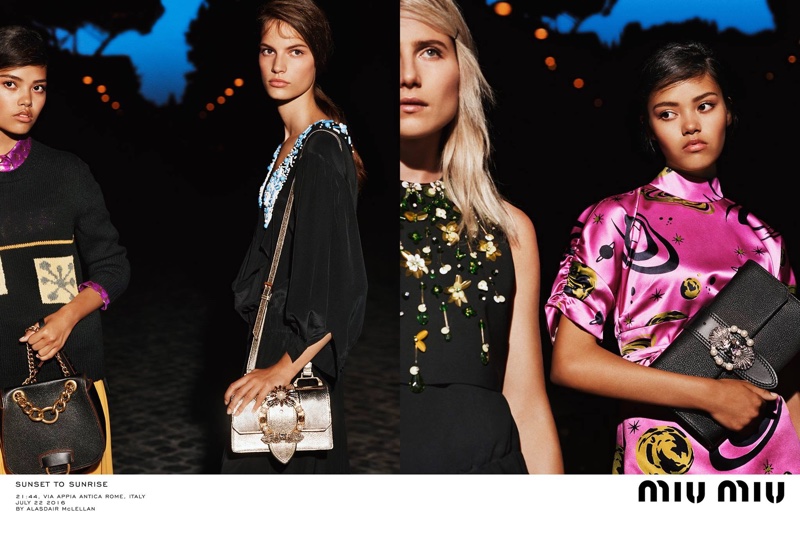 Alasdair McLelllan photographs Miu Miu's resort 2017 campaign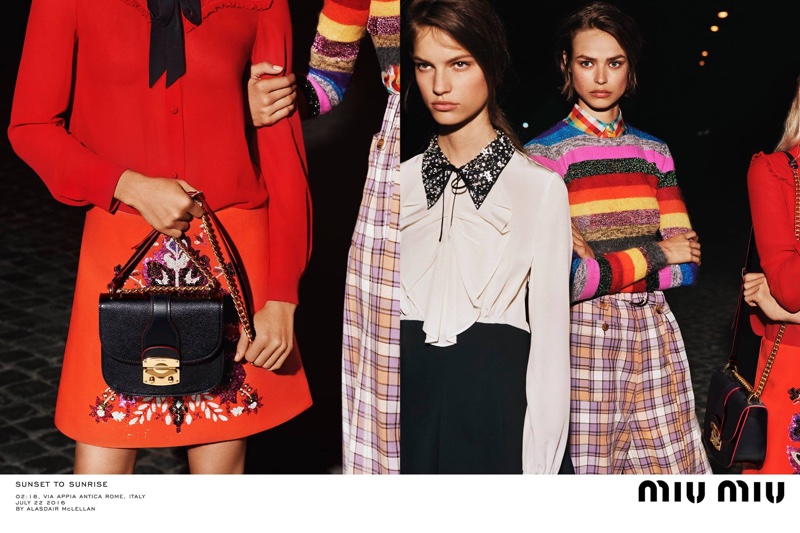 An image from Miu Miu's resort 2017 campaign
Tags: Miu
comnum(0) tbcount(0) tbcount(465)
Categories:
Other Brands
Miu Miu. Mention the brand and an image of a young girly-girl comes to mind, Prada's younger sister who's not afraid to embrace bold patterns and even brighter colours. She's quirky, she's intellectual, she's fun, and I would like to think, one who is aware of current trends and takes what she deems best to suit her personality and make it her own.
Sometimes she's all about florals and plaids, other times (like this season), she is intent to take something vintage-y from Grandma's wardrobe and give it a new twist. Which brings us to today's #bagoftheday, an embellished floral-jacquard tote that comes trimmed with patent leather on the sides.
Measuring some 27.5 cm by 18.5 cm, the framed satchel is, at first glance, a lot to take in. From its rich floral-jacquard fabric to its oversized glided buckle that comes encrusted with all manner of crystals in clear, red and green, this is definitely something Miu Miu (the girl) will love, a bag for everyday that she can easily dress up or down with.
Made available with an additional shoulder sling which you can then use to tote this bag over the shoulder, she's definitely not for the faint-hearted, something the Miu Miu girl is most definitely not. Priced at USD2808 and now available via NET-A-PORTER, this is one of those statement bags from F/W16 that no fashion-forward lady should be without.
Tags: Miu Tote Floral-Jacquard
comnum(0) tbcount(0) tbcount(451)
Categories:
Other Brands
Established in 1993 as the sister line of the Italian fashion label Prada, Miu Miu's edgy and provocative take on current styles have made the brand a powerful force in its own right. Feminine and sophisticated, yet playful with a rebellious attitude, Miu Miu's collections continue to subvert expectations and experiments with contemporary fashions to create distinctive avant-garde pieces. A Miu Miu shoulder bag epitomizes this clash of influences and innovative designs. Pops of brights, metallic detailing and striking embellishments are symptomatic of the distinctive line. The perfect investment piece.
Miu Miu bags blend contemporary, ornate and eclectic details with luxe materials and high quality to create a covetable range. Using a rich color palette and whimsy flair, Miu Miu's bags mix sleek elegance and tomboy charm to create bold leather totes, fringed shoulder bags and contrast-paneled satchels. For evening occasions, Miu Miu offers an embellished and pared-back range of must-have bags and clutches.
Crafted from floral jacquard with black leather trims and sparkling embellishments, Miu Miu seamlessly bridges the gap between the Old West and vintage glamour. An extravagant crystal-embellished buckle sits proudly at the front as a bold accent to the structured shape of this tote. Note the grosgrain ribbon-wrapped top handle and patent leather sides which give a ladylike finish.
A new bag from Miu Miu that we love, we handpicked this bag because of its sophisticated beauty. Aside from its attractive details, maybe it's the perfect mixture of crystal and floral that caught our attention that's why we are featuring this bag. Ladies, make way for Miu Miu's Crystal Floral Jacquard Tote.
An absolute eye candy, this one is a definite must-have for women who love to play with fashion. Beautifully crafted from floral jacquard with black leather trims and sparkling embellishments, Miu Miu effortlessly and seamlessly brings the fusion of the Old West and vintage glamour.
Now if that's not yet enough for picky ladies, what about the fact that it has an extravagant and fancy crystal-embellished buckle that sits proudly at the front as an eye catching accent to the structured shape of this tote? Also, take note of the grosgrain ribbon-wrapped top handle and patent leather sides, which lends it a ladylike finish.
Made from fabric with calf-leather trim, this beauty of a bag features an adjustable shoulder strap, three internal compartments, internal zipped and slot pockets. So plenty of room. Measures 7.5' x 11' x 6' (H x W x D) inches and is priced $2710 USD, €2200 euro, $21000 HKD, $4010 AUD, £331000 JPY via MyTheresa.
Tags: Miu Tote Crystal Jacquard Floral
comnum(0) tbcount(0) tbcount(471)
Categories:
Other Brands
Miu Miu, the company next to Prada, has been experimenting with designs and styles for the past several years and I have to admit, they are getting better and better.
Besides, it's always nice to discover variation of bags from a designer brand that you can trust. Let your daily fashion be guided by Miu Mu.
Now I've to admit that, even though the idea was creative, I wasn't really into the biker bags in bi and tri colors from the Resort collection. I like it more minimal and these babies are the perfect fit, they look like butter soft marshmallows.
For those who are interested, the Miu Miu Vitello Soft Bags are from the new Spring Summer Collection, they are the refinement of the refinement, the best of the best; a reverse leather appliqué, invisible stitching (imagine that!), padded edging and trim with blending innovation and tradition.
The interior are 100% crafted from leather and have pockets that are functional and made-sense. The Metal logo on the front is reminiscent of the classic luggage details.
Even the handles are well thought; it's made from padded leather and has an entirely different feeling than the soft body of the bag. On the top of that, it comes with a shoulder strap to make it wearable in any occasion.
This bag is now priced at $2,350 USD or €1650 euro's, it's already launched at your local Miu Miu boutique and also available on their e-store.
comnum(0) tbcount(0) tbcount(490)
Categories:
Other Brands
Unlike Prada, the brand Miu Miu was created to focus on young fashionista's – designing clothes, shoes and bags in splashes of bold colors, read-to-wear and conquer the spotlight in every street.
Like the Miu Miu Donna Jewel Pumps that was launched in the Resort 2014 Ad Campaign, these kinds of shoes in daring and well balanced colors are rare. The ingredients are exactly right to leave a powerful impact and certainly not too exaggerated and annoying.
Miu Miu also introduces a newer version of the small shoulder bag in the colors of white and dark, such styles are popular right now. The top handles are painted in trio colors like mud, dark and blue.
We should remember that Miu Miu is made out of Prada, there are certain skills and craftsmanship inherited in their leathers and design.
comnum(0) tbcount(0) tbcount(392)
Categories:
Other Brands
Those of you in the market looking for something utilitarian for work should check out the new Miu Miu Cracked Glossed-Leather Tote, a roomy workhorse of a bag that measures 32 cm across by 29 cm.
Built with dual compartments along with a section in the middle that can be zipped up (there's also a smaller zip compartment in the tote), it's perfect for work, good for days when you need to lug just about everything you own around. Another bonus, because it already comes 'cracked', you won't have to worry about keeping it pristine, especially when it already looks so beautifully seasoned and worn.
Besides Black (shown above), you'll also find another tote in a deep rich hue of Burgundy over at Net-A-Porter where they sell for GBP990 a pop. Or check out Miu Miu at ION Orchard, Marina Bay Sands or Paragon where I'm pretty sure you will find it stocked as well.
Categories

New Posts

Hot Posts