Categories:
Other Brands
Introducing the Chloe Faye Backpack Bag. The new Faye Backpack is part of the brand's Resort 2017 Collection and was also presented during their Spring/Summer 2017 runway show. The backpack features ring and chain details from the original Faye shoulder bag. It is made of suede and calfskin, while the interior is made of canvas lining which has a zipped pocket and a flat pocket. The bag has two fronts zips that can be zipped up or down, which features a contrasted lining, allowing a bigger capacity. It includes removable leather straps and can be carried on the back, over the shoulder or by hand. Available in two sizes, Medium and Mini.
Style, Price & Size
| Style | Price | Size |
| --- | --- | --- |
| Chloe Medium Faye Backpack Bag | $1,990.00 (USD) | 8.7" W x 10.1" H x 6.3" D |
| Chloe Mini Faye Backpack Bag | $1,490.00 (USD) | 6.7" W x 7.5" H x 4.3" D |
comnum(0) tbcount(0) tbcount(523)
Categories:
Other Brands
There plenty of backpacks available today, but the Chloe Faye Backpack is definitely one of Bragmybag's favorite so far. But why?
Chic, classy and affordable are the reasons. The Faye Bag Collection is a unique line, the front is crafted with an oversized hoop and attached with a ladylike chain to side – this design is not only fabulous, but one-of-a-kind as well.
What's more? The design is timeless, with a touch of minimalistic. It's made in the typical Chloe's mix of colors like brown and orange, which goes perfectly with almost everything casual-chic in your wardrobe. You can carry it for work, weekend or travelling. You can carry it in the autumn as well as in the fall.
Chloe has been heavily promoting the Faye Bag, because it's very promising. And who knows, perhaps it will be the next iconic bag.
In this post you will see more detailed images of how the bag looks when you carry it. Let us know what you think in the comment section.
comnum(0) tbcount(0) tbcount(504)
Categories:
Other Brands
The Chloe Faye Bag Collection is rising in the world of fashion. Fashion-obsessed just loved the design and the uniqueness that sets them apart. And you should also know that this Chloe bag is quite affordable.
With Chloe you will never meet with the devil 'Faux-Pas' and with Chloe you will never go-out-of-style. Having that said, The Chloe Faye Wallet with Strap is basically the smallest size of the Chloe Faye Shoulder Bag Collection. Listen to this story…
The Wallet with Strap is basically the famous Wallet with Chain Bags but without the chain. Strap can be handy too, they are sometimes much more comfortable. And if you have met with Faye Bag before, you can see that there are a lot of similarities in this Chloe Faye Wallet with Strap.
Like the oversized hoop that is linked to a golden chain and is connected to the side of the bag. This oversized hoop is the signature of the Chloe Faye Bag Collection.
Designed with an fold-over-flap, the bag opens with a magnetic button closure. The shoulder strap can be adjusted and worn cross body as well as on your shoulder. What's more? It can also be detached, so you can turn the bag into an evening pouch anytime you want.
The interior is made with one large compartment to store all your evening items as well as three card slots.
Measuring 7' x 3.5' x 1.5' (W x H x D) inches, priced at $795 USD, €535 euro, $1280 AUD, ¥1940 JPY, $5850 HKD via Elyse Walker.
comnum(0) tbcount(0) tbcount(509)
Categories:
Other Brands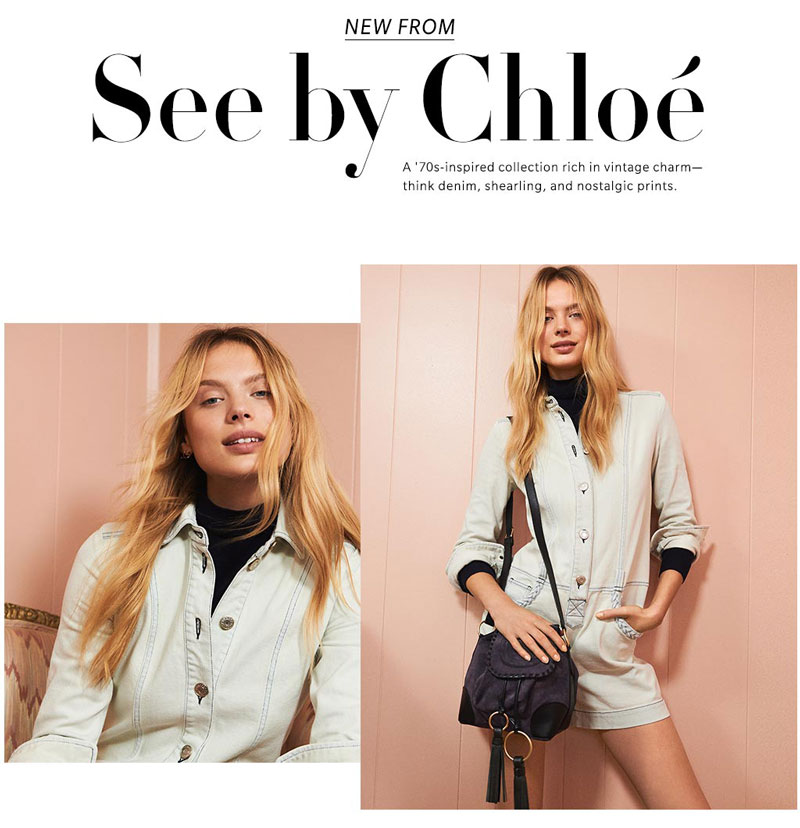 See by Chloe Denim Romper, Vince Turtleneck Sweater (worn underneath) and See by Chloe Polly Small Bucket Bag
Take on vintage style with See by Chloe's fall 2016 collection which just arrived atShopbop. These 1970's inspired looks are great for going out and making a statement. From a denim romper to a printed maxi dress or striped coat, these pieces serve retro vibes with a modern twist. Paired with cross body bags or lace-up booties, the See by Chloe girl embraces a cool attitude.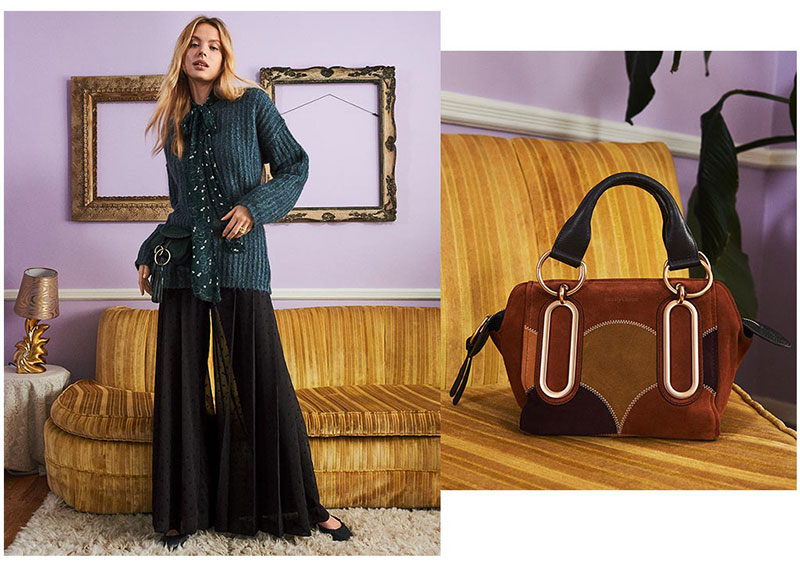 (Left) See by Chloe Printed Tie Neck Blouse (worn underneath), Ribbed Pullover Sweater, Wide Leg Polka Dot Trousers, Polly Mini Bag and Jane Ballerina Flats (Right) See by Chloe Paige Small Cross Body Bag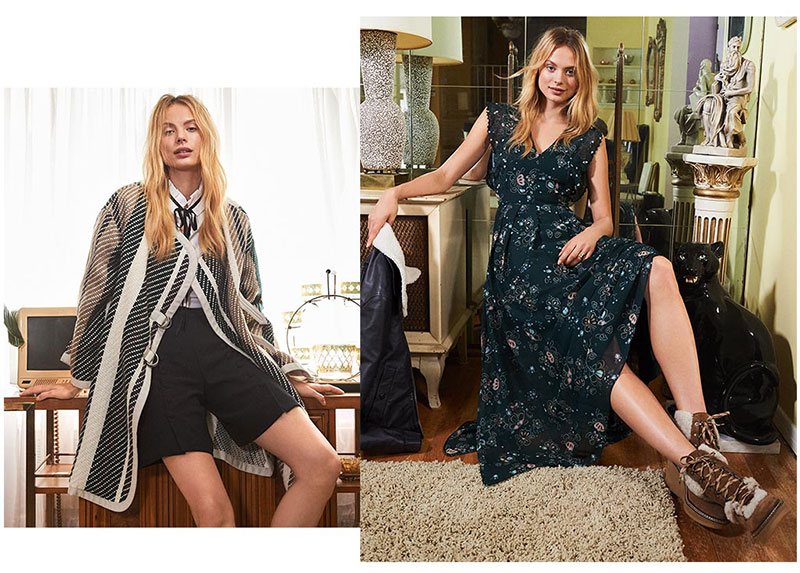 (Left) See by Chloe Oversized Striped Coat, Tie Neck Blouse and Flare Shorts (Right) See by Chloe Ruffle V Maxi Dress, Shearling Collar Flight Jacket and Eileen Platform Shearling Booties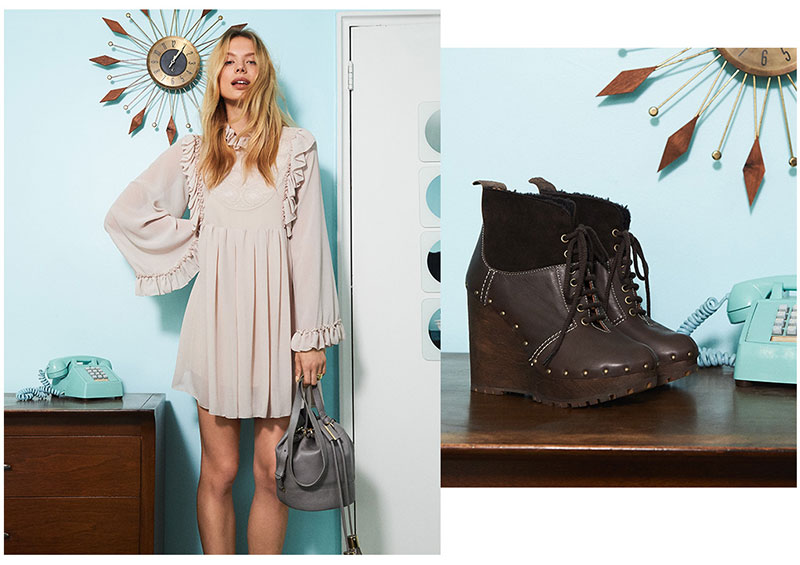 (Left) See by Chloe Ruffle Dress and Vicki Bucket Bag (Right) See by Chloe Clive Platform Lace Up Booties
Tags: Chloe
comnum(0) tbcount(0) tbcount(372)
Categories:
Other Brands
Now that backpacks are the hot items for the new modern fashion, every designer wants to get into the game. Though there are plenty of gorgeous backpacks available, not all of them are worth the investment. But don't worry, the Chloe Faye Backpack will definitely pass the fashion police test.
Honestly, have you seen the original Faye Bag? Oh my, that's a real gorgeous bag. You see, the Faye is designed with an oversized hoop in the center front; it's also beautifully refined with shiny hardware. Then a hoop is linked with a chain to the side. And now take a look at the Chloe Faye Backpack, the same-effect right?
A Chloe Faye Backpack cannot be compared to other backpacks. It has its own personality. It's chic, feminine and functional. By the way, the brand's signature is gentle embellished on the front flap.
Crafted from calf leather, it features zipped sides with adjustable width. The top is made with a top handle as well as adjustable shoulder strap. The interior also comes with a slot pocket. Available via MyTheresa.
These backpacks come in two sizes, here are the details:
Chloe Mini Faye Backpack
Size: 7' x 6.5' x 4' (H x W x D) inches
Prices: $1490 USD, €1090 euro, $11270 HKD, $2360 AUD, ¥143000 JPY
Chloe Faye Backpack
Size: 10' x 8.5' x 6.5' (H x W x D) inches
Prices: $1990 USD, €1490 euro, $15410 HKD, $3220 AUD, ¥195000 JPY
comnum(0) tbcount(0) tbcount(495)
Categories:
Other Brands
Presenting the Chloe Resort 2017 Bag Collection. Chloe introduces new bags this season including tote bags such as the Milo and Myer bags. Another new design is the Millie Bag, a small flap bag with a unique turn lock closure and a chain shoulder strap. While the iconic Faye Bag, now comes in a top handle style. The Faye Shoulder Bags are seen in new materials like Perforated Pineapple and Macrame patterns. This season's colors includes the classic Tobacco, Red, Black and Beige and pastel colors in Green, Blue, Pink and Yellow.
New Bags
| Style | Price |
| --- | --- |
| Chloe Milie Medium Turn-Lock Chain Shoulder Bag | $1,950.00 (USD) |
| Style | Price |
| --- | --- |
| Chloe Leather and Suede Milo Medium Tote Bag | $1,250.00 (USD) |
| Style | Price |
| --- | --- |
| Chloe Single Color Leather/Suede Myer Medium Tote Bag | $1,790.00 (USD) |
| Chloe Bi-Color Leather/Suede Myer Medium Tote Bag | $2,150.00 (USD) |
Drew and Hudson Bags
| Style | Price |
| --- | --- |
| Chloe Calfskin Drew Small Bag | $1,950.00 (USD) |
| Chloe Suede and Calfskin Drew Small Bag | $1,950.00 (USD) |
| Chloe Leather Hudson Small Bag | $2,150.00 (USD) |
Faye Bags
| Style | Price |
| --- | --- |
| Chloe Leather and Suede Macrame Faye Medium Shoulder Bag | $3,090.00 (USD) |
| Chloe Suede and Snakeskin Faye Medium Shoulder Bag | $2,550.00 (USD) |
| Chloe Perforated-Pineapple Faye Medium Shoulder Bag | $2,290.00 (USD) |
| Chloe Faye Medium Shoulder Bag | $2,090.00 (USD) |
| Chloe Suede and Leather Faye Medium Top Handle Bag | $1,990.00 (USD) |
| Style | Price |
| --- | --- |
| Chloe Leather Faye Wallet-On-A-Strap Bag | $795.00 (USD) |
| Chloe Leather and Suede Faye Wallet-On-A-Strap Bag | $795.00 (USD) |
| | |
Marcie Bags
| Style | Price |
| --- | --- |
| Chloe Suede Marcie Small Crossbody Bag | $990.00 (USD) |
| Chloe Calfskin Marcie Small Saddle Bag | $890.00 (USD) |
| Chloe Suede Marcie Medium Satchel Bag | $1,990.00 (USD) |
Categories

New Posts

Hot Posts